ADDITIONAL INFORMATIONS:

Terms & Conditions

INTRADA MUSIC is the trading name of Intrada. Based in Kielce, Poland. We are complete woodwind specialists stocking numerous accessories and instruments, the majority of which are unavailable through traditional music stores.
COMPANY:
INTRADA Serwis Instrumentow Detych Lukasz Cywicki
ul. Sienkiewicza 10/12A/3
PL 25-333 Kielce
POLAND

REGISTRATION NUMBERS:
VAT: 6571841026 REGON: 292849246

VAT EU NUMBER:
Making Purchase

Making a purchase could not be easier. Just browse our Catalogue, and click on any items that you wish to buy and put them into the shopping cart. After you have finished your selection, click on "Basket" and you will be asked for a few details that we need to be able to satisfy the order.

Payment

We accept payment for: EUR, USD, GBP Bank Transfer and Credit/Debit Cards

Paypal payment is accepted only for courier insured orders outside the European Union (additional insurance)

Delivery Schedule
We deliver your order right away after prepayment - for goods "in stock"
Back Orders

If your item is not in stock, we will back order for you. You will always be emailed with the option to cancel your order if you would rather not wait.
Tax Charges and Customs Clerance

For standard orders made from European Union and Rest Of The World 23% VAT is added.

The prices do not include additional costs of possible customs clearance (Export outside the EU). ADDITIONAL TAXES (in the country of destination) WILL BE PAID BY THE BUYER.
All export orders from EU Companies and Institutions having valid VAT EU NUMBER are VAT free (VAT 0%) - please contact info@intradamusic.com for your special EXPORT TAX FREE INVOICE (only NET payment via bank transfer)
Contacting Us
ul. Sienkiewicza 10/12A/3
EMAIL for English language: info@intradamusic.com
Privacy Policy

Data Administrator:
INTRADA Serwis Instrumentow Detych Lukasz Cywicki
ul. Sienkiewicza 10/12A/3
PL 25-333 Kielce
POLAND
We use your personal data - only for realisation your order (data we provide for: shop INTRADAMUSIC, payment operator, shipping operator).
Providing data is voluntary. You can withdraw your consent at any time. Please contact us: info@intradamusic.com
INTRADA do not disclose buyers information to third parties. Cookies are used on this shopping site to keep track of the contents of your shopping cart once you have selected an item, to store delivery addresses if the address book is used and to store your details if you select the 'Remember Me' option.
Returns Policy - EU and EEA Orders (for consumers)

14 days cancellation period, starting from when the goods are received.
There is no automatic right of refund where hygiene issues are relevant such as used mouthpieces & reeds (broken seals).
These products must includes all orginal packaging, be undamaged and intact - sealed (hygienic reasons).
A full refund will be made including delivery cost (lowest price - as stated on our website). Additional cost for another delivery option selected by the buyer will not be refunded.
For a full refund, goods should be returned in brand new retailable condition. Any reduction in value will be deducted from the refund. Reduced value may be due to marks, damage, wear, damaged packaging etc.
It is the customer's responsibility for the full cost and safe return of the goods on our address.
Refunds will be made within 14 days of notice of cancellation, as long as the goods have been received by INTRADA.
Omnibus - EU directive

Our internet store does NOT USE:
- manipulation and profiling of search results
- different prices for customers (profiling)
- customer opinions and reviews about the products and the store
Statute law

INTRADA Company is subject to Polish law. The basis for claims are full documents in Polish language. Texts in English are for information purposes only.
---
News
---
---
New brands
New models: ER, DSII, VINTAGE

more »

New models mouthpieces: MALBEC and VERDOT

more »

Legendary mouthpieces for saxophones

more »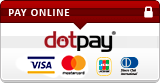 Settlement of credit card and e-transfer transactions is carried out through the Dotpay Settlement Center