Tax Charges

For standard orders made from European Union and Rest Of The World 23% VAT is added.
Tax Free (EU)
All export orders from EU Companies and Institutions having valid VAT EU NUMBER are VAT free (VAT 0%) - please contact
info@intradamusic.com
for your special EXPORT INVOICE "TAX FREE" (only NET payment via bank transfer)
Tax Free (Rest Of The World)
We do not EXPORT TAX FREE outside the EU
Customs Clerance (Export outside the EU)
The prices do not include additional costs of possible customs clearance (Export outside the EU).
ADDITIONAL TAXES (in the country of destination) PAY THE PURCHASER.

Details of customs clearance obligations - your national tax office





---
News
---
---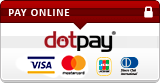 Settlement of credit card and e-transfer transactions is carried out through the Dotpay Settlement Center